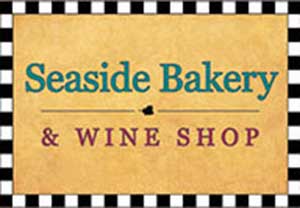 Seaside Bakery in Ocean Isle Beach, NC
Is there anything that sounds more tantalizing than enjoying a glass of wine on the beach? How about enjoying that wine with a deliciously decadent pastry? If you are looking for a shop that offers all the ingredients for a perfect picnic or party on the beach, you should check out Seaside Bakery and Wine Shop. The shop offers some fabulous wines and baked goods that you can enjoy while watching the waves crash along the shore.
The wine selection is comprised primarily of domestic boutique wines, with everything from hearty reds to tangy rosés to light and refreshing whites. If you need help deciding, the friendly and knowledgeable staff can help you pick the perfect wine to go with any cuisine that might be on your menu.
You can also sample a few wines before deciding on one, or you can attend one of the shops frequent wine tastings. Unlike so many other wine shops in town, many of the wine tastings at Seaside Bakery and Wine Shop are free; all you have to do is bring your own glass.
Beer
Beer drinkers will also find something to please their palates, as Seaside offers a wide selection of domestic and imported beer. Fear not: The shop also has occasional beer tastings.
If you want to class up that picnic or party, Seaside Bakery in Ocean Isle Beach, NC has a selection of fancy condiments and exotic salsas. You can get a few jars of locally made jams that you can spread on the artisan crackers that they sell.
Cakes
If you are getting married on the beach, you can have Seaside Bakery provide a tasty and elegant looking wedding cake. If you are celebrating a birthday, the bakery can make you a beach themed cake. Just in case you planned a big birthday bash and remembered everything but the cake, you will be happy to discover that the shop is stocked with emergency birthday cakes. Should you want a few other desserts at your party, the bakery offers a variety of cupcakes and cookies. You can either pre-order or chose from a daily offering of treats.
Accommodations
So, you have stocked your basket with wine, beer, and all the goodies your heart desires from Seaside Bakery in Ocean Isle Beach, NC. You can have a picnic, but technically you are not supposed to drink on the beach. You may want to enjoy your wine while sitting on the porch of your own beach house. McClure Realty Vacations can find you and your family the perfect place to stay while visiting North Carolina. Call us at 800-332-5476 or browse our website today.