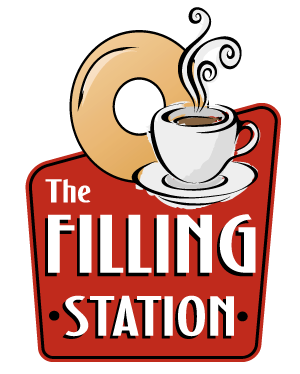 The Filling Station in Shallote, NC
They don't do sweets anywhere quite as well as they do down south. If you are looking for evidence of this theory, look no further than The Filling Station, which offers some of the tastiest and most decadent donuts and cold drinks in North Carolina.
The colorful, cleverly decorated pastries are a favorite of the locals in the area and they offer enough flavors to please any palate. Whether you prefer sprinkles and candy or a plain raised or cake donut, you are sure to find the perfect breakfast at The Filling Station in Shallote, NC.
Some of the most imaginative donuts include the Cookie Monster, which offers the likeness of the famous Muppet, by covering a cake donut with vanilla frosting and blue sprinkles and topping it off with two candy eyes and an Oreo for his mouth. The Fruity Pebbles combines a vanilla donut topped with vanilla frosting and the popular cereal. The turtle brownie is a raised donut covered with chocolate frosting, caramel fudge, and chocolate cookie bits. The Pina Colada is a vanilla cake donut topped with white icing, coconut, and a cherry.
The Filling Station is famous for its gigantic, fresh baked cinnamon rolls, which they call Fillabuns. The restaurant also offers whole cakes and pies.
If your favorite donut lover is having a birthday, you can get a cake there that is in the shape of a donut. They offer colorful cupcakes that come decorated with pastel butterflies. There is also a plethora of homemade pies—the best of which is a sweet and tangy blueberry.
The Drinks
Donuts would be no where without coffee, and The Filling Station in Shallote, NC uses top-rate beans from Crimson Coffee and Tea in Columbus, Ohio in their expresso drinks and their regular coffee. They make an especially good latte which is the perfect complement to their pastries.
If you prefer your sweets come with a straw, The Filling Station won't disappoint you. They offer a selection of creamy drinks, including a delightful chocolate mint shamrock frappe and an almond and coconut frozen coffee.
Once you have that fresh baked cake in your hands, you will want to have a place to enjoy it with your family and friends. McClure Realty Vacations can find you a beach house, condo, or apartment with a big and fully stocked kitchen. Call us at 800-332-5476 or browse our website today.