Things to Do in Ocean Isle Beach, NC
Ocean Isle Beach offers much more to do and see than the beach itself. Ocean Isle Beach and the surrounding area are home to numerous annual festivals and events. No matter what time of year you are visiting, there is bound to be exciting things to do in Ocean Isle Beach, NC.
Ocean Isle Beach Summer Concert Series
Music lovers, rejoice! Every year from May through September Ocean Isle Beach hosts a free concert series. Every Friday night during the summer from 6:30 to 8:00 p.m. the hottest local bands in the area get everyone's feet stomping and tail feathers shaking with rock and roll, oldies, beach music, and shag. The free concerts take place in the parking lot of the Museum of the Coastal Carolinas.
NC Oyster Festival
The waters of Brunswick County are famed for their abundance of mollusks, and you don't want to miss the chance to celebrate one of America's favorite ocean treats. Each October over 30,000 people visit Ocean Isle Beach to enjoy a day of food, live entertainment, and contests including a road race, tennis tournament, beauty pageant, oyster-shucking contest, and oyster stew cook-off.
Day at the Docks
You'll find two days of fun each April during Holden Beach's Day at the Docks festival. Hosting over 50 arts and crafts vendors, live music, food vendors and exciting competitions, Day at the Docks is a full weekend of non-stop entertainment for the whole family.
The Swamp Park
Ocean Isle Beach, North Carolina is an amazing place for a vacation for countless reasons. Explore the swamps, go on an adventure in the trees, and try ziplining between cypress trees.

Calabash Fishing Fleet
Calabash Fishing Fleet offers the best fishing excursions in the area as well as party cruises and dolphin cruises. Hop aboard one of the charter boats of Calabash Fishing Fleet led by Captain Robert!

Museum of Coastal Carolina
Learn about the history and science that exists right in the Carolinas at the Museum of Coastal Carolina!

North Carolina Wildlife: Bird Island Reserve
The Bird Island Reserve in Brunswick County is primarily used for research and study of NC wildlife. This is a a beautiful beach area and wonderful place to relax.

Coastal Wine Room
Coastal Wine Room, the first wine room on the island, features a unique blend of novelty and hospitality. Browse our extensive collection of fine wines and beers around the globe, or relax at the bar with a glass of wine, beer on tap, wine and beer flights, food, family, and friends.
Super Saturday
Kick off the holiday season the island way on Super Saturday, held on the first Saturday after Thanksgiving. Festivities begin with a Christmas Parade, followed by a tree lighting ceremony, caroling, and a nighttime boat parade. Bring the little ones to tell Santa their Christmas wishes!

Every Thursday
5:30 pm - 9:30 pm, Shallotte Elks Lodge, 791 Bricklanding Road
Thursday, February 7, 2019
Valentine's Day Craft Workshops
2:00 pm & 6:00 pm, 20 seats available each, RSVP with Hayley Burgess by 2/4/19 via email at Hayley@oibgov.com or call 910-579-2166.
Thursday, February 14, 2019
Celebrate Valentine's Day with Ocean Isle Beach
2:00 pm - 4:00 pm, Town Hall Meeting Room, 3 West Third St.
Thursday, February 21, 2019
Community Health Day at Ocean Isle Beach
9:00 am - 12:00 pm, Town Hall Meeting Room, 3 West Third St.
Monday, February 25, 2019
BINGO (FREE)
2:00 pm, Town Hall Meeting Room, 3 West Third St.
Saturday, April 20, 2019
OIB Kite Flying Day
2:00 pm, OIB Community Center, 44 East First Street
More info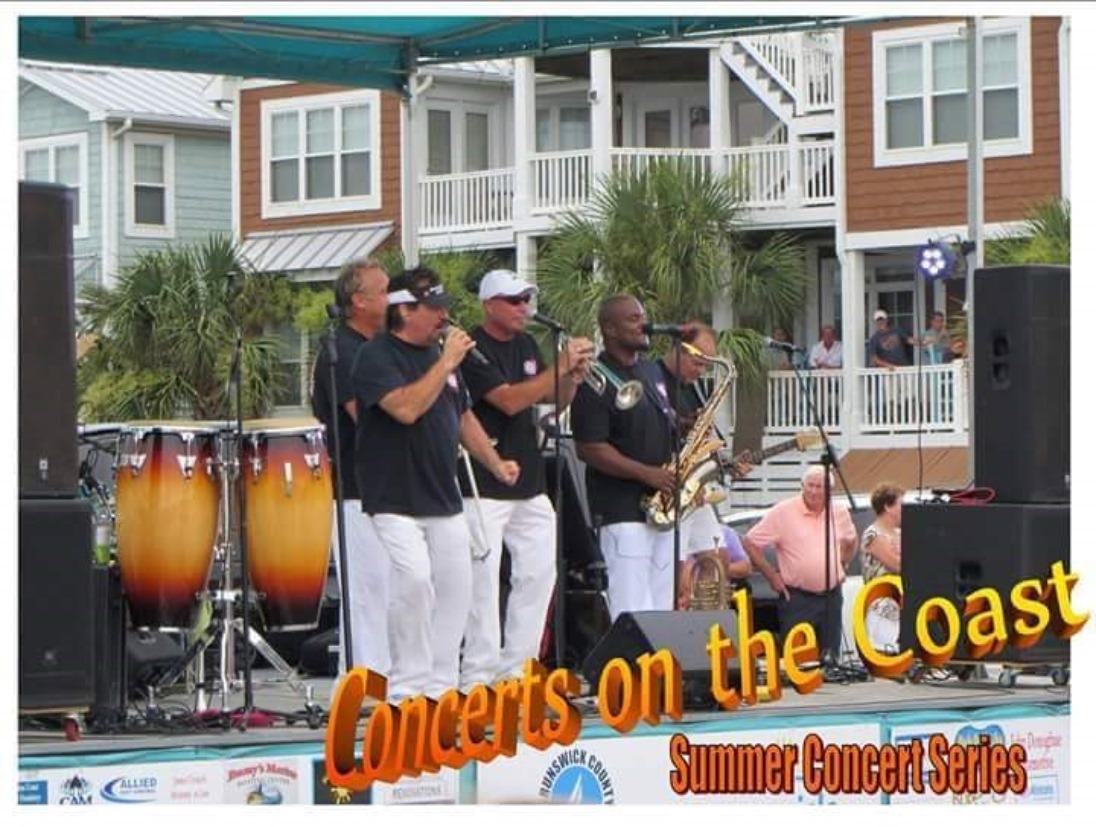 Friday, May 24, 2019
Concerts on the Coast presents The Entertainers
6:30 pm
Friday, May 31, 2019
Concerts on the Coast presents Steve Owens & Summertime Band
6:30 pm
Friday, June 7, 2019
Concerts on the Coast presents North Tower
6:30 pm
Friday, June 14, 2019
Concerts on the Coast presents Gary Lowder & Smokin' Hot
6:30 pm
Friday, June 21, 2019
Concerts on the Coast presents Jim Quick & Coastline Band
6:30 pm
Friday, June 28, 2019
Concerts on the Coast presents The Legacy Motown Revue
6:30 pm
Wednesday, July 3, 2019
OIB presents Fireworks from the pier
9:00 pm
Thursday, July 4, 2019
OIB Fourth of July parade
10:00 am
Friday, July 5, 2019
Concerts on the Coast presents Band of Oz
6:30 pm
Friday, July 12, 2019
Concerts on the Coast presents The Embers featuring Craig Woolard
6:30 pm
Friday, July 19, 2019
Concerts on the Coast presents Too Much Sylvia
6:30 pm
Friday, July 26, 2019
Concerts on the Coast presents The Extraordinaires
6:30 pm
Friday, August 2, 2019
Concerts on the Coast presents Special Occasion Band
6:30 pm
Friday, August 9, 2019
Concerts on the Coast presents Continental Divide
6:30 pm
Friday, August 16, 2019
Concerts on the Coast presents Tim Clark Band
6:30 pm
Friday, August 23, 2019
Concerts on the Coast presents EnVision
6:30 pm
Friday, August 30, 2019

Concerts on the Coast presents Blackwater Rhythm & Blues
6:30 pm
Friday, September 6, 2019
Concerts on the Coast presents Chocolate Chip & Company
6:30 pm
Saturday, September 21, 2019
OIB Trash Bash
9:00 am - 12:00 pm, museum parking lot