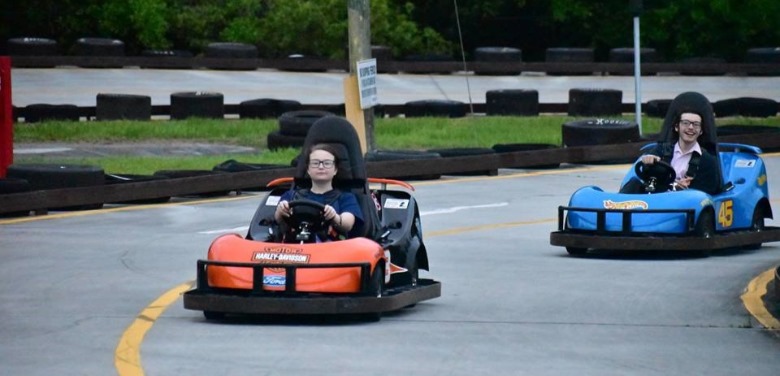 Ocean Isle Beach Super Track
Whether your children have visions of being big time race car drivers when they grow up or your family just has an addiction to going fast, your Ocean Isle Beach vacation is about to make all your dreams come true with a visit to the Ocean Isle Beach Super Track! Perfect for families with children, or for adults that refuse to grow up and are looking for something to do on any given evening, Ocean Isle Beach Super Track has been a local favorite since opening day.
Located at 6428 Beach Drive SW
Family friendly vacations that can be enjoyed by everyone are hard to find, but when you choose Ocean Isle Beach for your next vacation destination, you'll be amazed at all the "funderful" things you can do as a family. The Super Track's mission in life is simple: They want you and your family to have fun together! Their cars are colorful and safely fast, and because go-kart drivers have to be at least 58 inches to drive, Super Track now offers two-seaters, allowing your smaller children to sit next to you and feel the wind in their faces as you take the wheel. It only takes one ticket for the two riders, saving mom and dad a few bucks as they play! Kids over 58 inches tall can drive on their own, making them feel grown-up and smug as they pass Dad on the turn; don't be surprised if you see more than just a smirk on their faces as they wait for your slow car to make it home!
Ocean Isle Beach Super Track is also a great place for corporate events, so if you're looking for a corporate retreat location, our McClure Realty Vacations homes offer the perfect place to stay, while the track is the perfect place to play. Show your employees how much you appreciate them with an afternoon of fun on the track! Reasonably priced for families or businesses, you are never too old or too young to show off your fast side—on the race track, of course! Ticket prices start at $9 and go up to $150 for 20 tickets. With each ride lasting five minutes, this activity fits into most vacation budgets.
Relax In Ocean Isle Beach
Once you step off the fast track, a slow and quiet evening spent in the comfort of your McClure Realty Vacations getaway will be just the ticket! Reserve yours today and spend some time enjoying our top rated vacation homes.