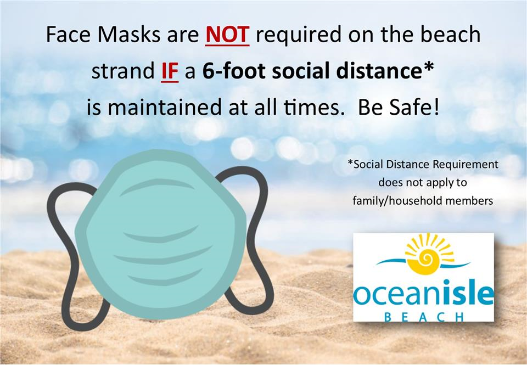 COVID-19 INFORMATION
The information available regarding COVID-19 continues to change daily. It is the goal of McClure Realty Vacations to provide information to our guests and homeowners about how COVID-19 will affect them and to make sure everyone is aware of the advisories provided by our state and county officials, which are located at the bottom of the page. Updates as we receive them will be posted on our Home page, on this page, and on our Facebook page.
CLICK HERE TO READ OUR PRE-ARRIVAL EMAIL CONTAINING IMPORTANT INFORMATION.
GUEST ARRIVALS
Short term rentals in Ocean Isle Beach are open. The beach is open for visitor use for recreation, etc. Public gatherings must be 25 people or less.

Per the NC Governor's Executive order, restaurants are only allowed to serve dine-in guests at 50% capacity. Some of our local restaurants are still just offering take-out and/or delivery. Please check with individual restaurants for details.
Also per the Executive Order, face coverings are required while in public when a safe distance (of 6 feet) cannot be maintained.
COMMERCIAL POOLS
Under the current NC Executive Order, commercial pools in NC are allowed to be open at 50% capacity as of May 23, 2020. However, the condo pools are under the jurisdiction of each condominium board of directors and could close by direction of the board without prior notice. We are not able to provide refunds for pools that are closed.
VACATION TRIP INSURANCE CANCELLATIONS
If you had the misfortune of a job loss through this nationwide event, and you purchased travel insurance, please contact us if you wish to cancel. Job loss is covered by the Red Sky Travel Insurance, although some restrictions apply.
For more information on coverage, visit Red Sky Travel Insurance or contact them at 1-866-889-7409.
CANCELLATIONS
For guests arriving after May 7th, our standard cancellation policy remains in effect. Guests wishing to cancel reservations with an arrival date after May 7th should first notify us in writing as soon as possible by e-mailing ncmcclure@atmc.net. Next contact Red Sky Travel Insurance, if applicable, to begin the steps of filing your claim. Once we receive your cancellation submission in writing, we will make every effort to re-rent the property. If re-rented, you will receive a refund, less the reservation fee, travel insurance premium, and 15% cancellation fee. If the property cannot be re-rented, no monies shall be refunded.
Guests scheduled to arrive during a period while rentals are restricted have the option of moving their dates to open dates at the same home or receiving a refund. If one or both of these orders is extended, guests affected will be notified and given their options.
OFFICE TRAFFIC IS LIMITED
As we each practice social distancing in response to COVID-19, one of our priorities is the safety and health of the McClure Realty Vacations team. Our office traffic is limited to 4 people and face coverings must be worn.

HELP FLATTEN THE CURVE
We are asking of our guests the same that we are asking of our team and of ourselves: if you are sick or showing symptoms identified with COVID-19, please follow the advisories set forth by health officials on every level and stay home, self-quarantine and seek medical treatment if necessary.
STAY INFORMED
When traveling it is important to stay informed of local advisories, policies, and procedures. We will continue to post all relevant information as received below.
GOVERNMENT RESOURCES
Click Here to visit the Town of Ocean Isle Beach Home page.
https://www.brunswickcountync.gov/alert-ticker/information-on-coronavirus/
https://www.ncdhhs.gov/divisions/public-health/coronavirus-disease-2019-covid-19-response-north-carolina