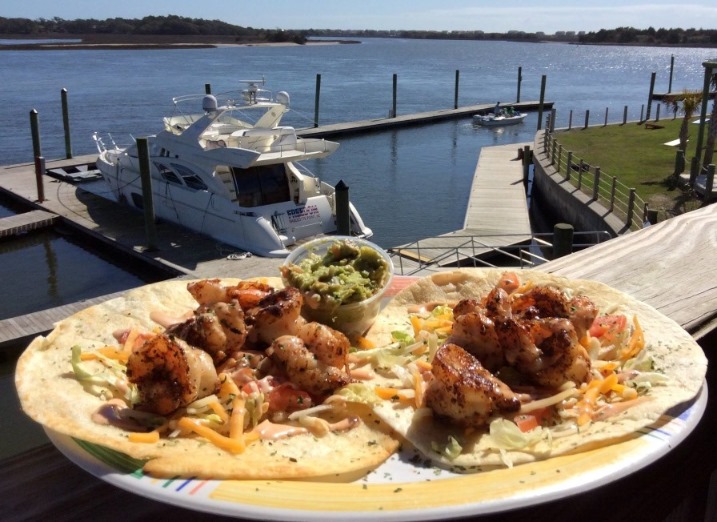 Inlet View Bar And Grill NC
There is a huge amount of the things to do during your Ocean Isle Beach vacation, but what about in the evenings? It can be pretty quiet down here at night. We prefer a walk along the ocean's shores to a big city party, but we understand that there's more to life than the beach. Although the Inlet View Bar and Grill offers breathtaking views of the ocean in its backyard, it's the food and drink that will keep you coming back more than once during your stay!
Located at 1800 Village Point Road Southwest in Nearby Shallotte
It's not hard to find your way to the bright turquoise building standing at shore's edge; colorful and proud, it's been a local tradition since 1978, when it opened in its previous location as Gregory's. After moving, changing their name, and then closing for five years (2004-2009), the Ocean Isle Beach area was in mourning. Could we really survive without tasting Mama's famous hushpuppies? Those five years were the longest and most painful ones in our recent memory, but brighter days were known again when the Inlet View Bar and Grill reopened its doors.
A New Look
They made some changes during the remodeling stage, but the food served at this bar and grill needed no renovations. Mama's hushpuppies are back in force, along with all the other menu items! Using fresh and locally sourced foods whenever possible, the shrimp that is their most popular menu item is brought to them straight from the boat; you can taste the difference! Indulge in soft shell crabs still bearing a hint of the ocean's salty goodness, hand cut ribeye steaks, and seafood combo dishes so delicious, you will never be satisfied with your mainland seafood ever again!
Appetizers begin with homemade chips and end with calamari. Salads are made with lettuce picked from gardens right here in the area. Oyster or shrimp po boys exemplify the Southern way of life. We don't have a favorite item, because we love them all! Served with sodas, juices, or your adult choice of beer and wine, everything here is so wonderful, most visitors become regulars after just one taste of their deliciousness!
Inlet View Bar And Grill NC
Be sure to ask for a bag or box; you'd be surprised at how good your seafood combo tastes by the light of the moon in the middle of night. Heat it up in your McClure Realty Vacations beachfront getaway and enjoy it in peace and quiet on the back deck. The sound of the ocean, the light of the moon, and the taste of fresh seafood—life just doesn't get any better than this. Reserve your stay with us today!