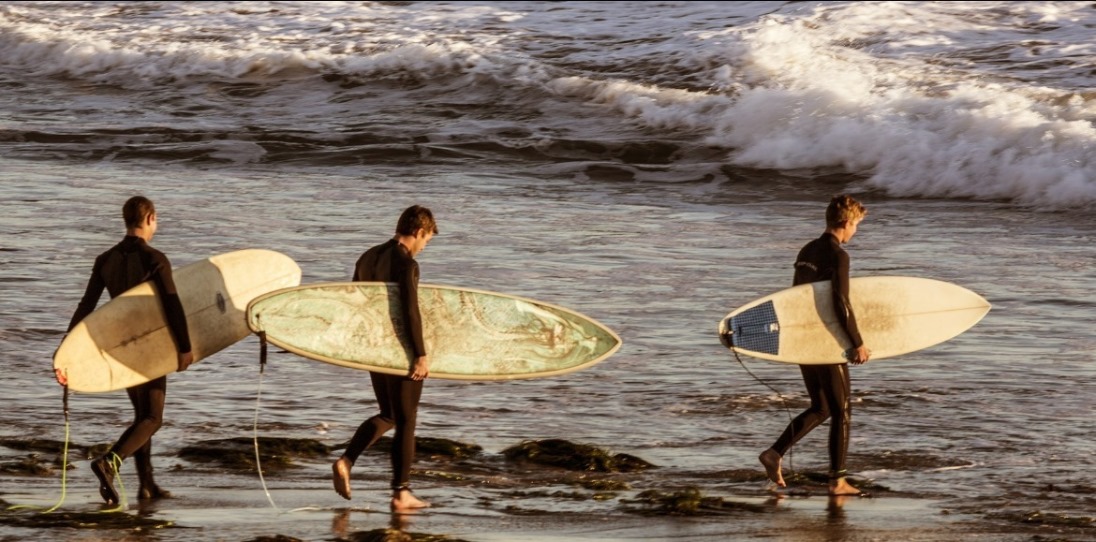 Ocean Isle Beach Surf Guide
With ideal wind patterns, gentle waves and serene surf, the location of Ocean Isle Beach, North Carolina makes for an amazing coastline that provides those who love to explore the waves unbeatable opportunities to make the most of water sports. When it comes to Ocean Isle Beach surf, whether you're new to the sport or an expert wave runner who hops on the board with ease, the area has something for everyone.
Ocean Isle Beach is a great surfing destination and provides great opportunities for those looking to learn the sport as well. When you're here, make sure to check out The Carolina School of Surf for options to choose between group or private lessons, one of the top things to do in Ocean Isle Beach NC. If you're traveling with children and hoping to hit the waves with the entire family, make sure to book lessons by age with The Ocean Isle Surf Academy. Certified instructors at both locations make learning simple and safe. Start out in waist-deep water and slowly make your way towards larger waves, all while receiving top-notch instruction on how to approach the ocean and handle anything unexpected that comes your way. You'll get a thorough background in choosing the right equipment and maintaining a surf board for prime results. Fun and comfortable, these classes are the best way to get a handle on all things Ocean Isle Beach surfing!
The waves that surfers encounter in Ocean Isle Beach are generally docile, but the ocean doesn't answer to anyone and it's important to understand the risks involved before you jump on the surfboard. Anytime you participate in a water-based sport, there is a risk of encountering riptides. Ever changing tide levels and unexpected current fluctuations can make for less than ideal conditions for surfing if you're not up to speed on what's happening out on the water. Make sure to check the Ocean Isle Beach city website regularly for the most up-to-date weather conditions including riptide warnings that might be in effect on a given day. Additionally, the site provides tide charts for the previous year to help you plan your ideal surfing days during your vacation.
Top Ocean Isle Beach Surf Classes
Heading to Ocean Isle Beach, North Carolina inspires those who are passionate about the water to take to the waves in surfer style. Whether you're an expert on the board or recently inspired to give this watery sport a try, there are Ocean Isle Beach surf classes worth signing up for. Led by teams of expert instructors, an Ocean Isle Beach surfing class is great for beginners and an amazing refresher for those who haven't been out on the waves in a while.
Recognized as one of the most family-friendly Ocean Isle Beach surf schools, Ocean Isle Surf Academy is a versatile one-stop-shop when it comes to learn to capture the curl. Offering summer camps alongside private lessons divided by age group and ability, instructors make sure participants feel comfortable with the basics before gradually progressing to more advanced waves. Feel free to take an independent approach to lessons or gather the whole group together for a family class. Either way you'll spend time learning board basics as well as ocean safety before getting out and trying your skills on the water.
Carolina School of Surf
This combination surf school and tour company gives participants the opportunity to be a part of a group surf class or try a private lesson. If you're going to be in town for a while, make sure to sign the kids up for surf camp, one of the top things to do in Ocean Isle Beach NC. Built on the pillars of safety and fun, Carolina School of Surf works hard to infuse the essence of a trip to Ocean Isle Beach with the necessary skills to remain safe and stable out on the water. With an access point from the Ocean Isle Beach Community Center, lessons at the Carolina School of Surf are convenient and comfortable for everyone, no matter your age or ability on a board!
This fun waterside establishment is primarily recognized as a great place to rent water gear while you're in Ocean Isle Beach. On a daily basis, visitors can find a vast selection of canopies, kayaks or jet skis. However, it's also an incredible stop when you're looking to sing up for surf class! Offering surf school options alongside 1-hour refresher courses, there's a little something for every age and skill level when you're getting ready to head out and hit the waves.
Home Sweet Oceanside Home
A day of surfing is sure to leave you looking for a comfortable place to refuel and rejuvenate. When you're in Ocean Isle Beach, let the experts at McClure Realty Vacations help find you the perfect vacation rental to call your home away from home. Pristine, customized to your needs and bringing beautiful ocean views to your front door, our selection of properties is sure to please. Contact us today learn more about things to do in Ocean Isle Beach NC and to book one of our vacation rentals, especially one of our beachfront rentals!