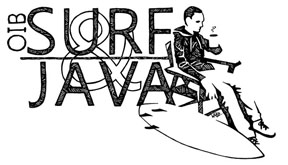 OIB Surf and Java
So, you've come to North Carolina to ride some tasty waves. Before you paddle out to the middle of the ocean to try to balance yourself on a barrel, you may want to make sure your eyes are open with a nice hot cup of coffee. OIB Surf and Java not only serves some of the best coffee in the state, it also offers surf gear and even surf lessons.
Great Coffee in Ocean Isle Beach, NC
Whether you are in the mood for a simple cup of drip or a frothy and surgery concoction, OIB can make the perfect coffee in Ocean Isle Beach, NC for you. The coffee beans they use include Costa Rican, Nicaraguan and Carolina Morning.
Some of the shop's most effectively caffeinated drinks include the Red Eye Black Eye, which is a shot of espresso in a cup of drip coffee. Some of the tastiest drinks include a Milky Way, which is a combination of mocha, caramel, and vanilla, and an Almond Joy, which combines dark chocolate, almond, and coconut.
If you'd like to carb up before hanging ten, OIB Surf and Java offers some delicious pastries. The menu includes fresh baked monkey bread and some very palatable blueberry muffins.
Surf Apparel
OIB is more than just coffee in Ocean Isle Beach, NC; the store has everything a surfer could possible need, from flip flops to wet suits to that sunscreen you forgot to pack. They also are the sole distributor of surf champion Jesse McCrery's custom surf boards. Mr. McCrery has been shaping boards since 1999. Each of the boards feature their own hand panted design and Mr. McCrery's logo.
If you are looking for a unique souvenir from your trip, you may want to get one of the shops tee shirts which features its logo on a VW micro bus.
Surf Lessons
If you're a Barney who wants to become a hot dog, you will want to check out the classes that OIB Surf and Java offers. The shop offers private lessons for surfers of all skill levels. Best of all, these lessons are offered by champion surfer's ​Marty Mentzer and Jesse McCready.
After a day at the beach, you will want a comfortable place to relax and rest up for the next day of surfing. No matter if you are traveling solo, with your family, or with a large group, our team of vacation rental specialists at McClure Realty Vacations can find the perfect home for you. Call us at 800-332-5476 or browse our website today.