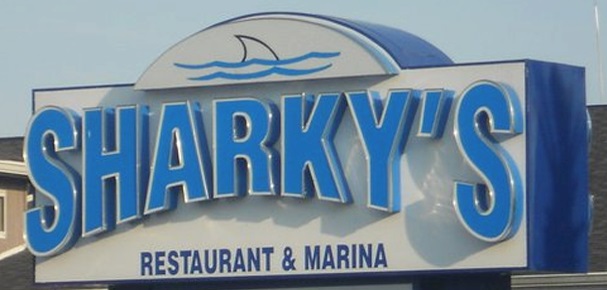 Sharky's Waterfront Restaurant and Marina in Ocean Isle Beach
61 Causeway Drive
(910) 579-9177
Sharky's Waterfront Restaurant and Marina is an Ocean Isle Beach landmark, and has been a favorite of locals and visitors for over 25 years. Nestled cozily next to the water under the Ocean Isle Beach Bridge, Sharky's offers excellent pizza, and regional seafood, chicken, and steak dishes in a casual coastal ambiance. Serving lunch and dinner seven days a week, Sharky's also features live music Thursday through Sunday and an outdoor patio overlooking the Intracoastal Waterway. If you are headed out to explore the area, you can bring along some of Sharky's excellent food from their to-go menu. Just call in your order and pick it up. Also, be sure to take home some souvenirs from your visit; Sharky's offers a large selection of long and short sleeve logo T-shirts, cool caps, and even a drink koozie. Learn why this is a staple among Ocean Isle restaurants down below!
Sharky's Waterfront Restaurant Specialties
Sharky's offers a wealth of yummy southern and regional favorites, including satisfying entrees, specialty pizzas, sandwiches, salads, and much more. The appetizer menu has a diverse array of offerings that you could make a meal out of just by sampling all of them. Local meal-starting favorites include Sharks Teeth, deep fried crab-stuffed jalapeño peppers served with ranch dressing; fried green tomatoes, boiled shrimp, and chicken tenders, to name a few. A number of sandwiches are available to eat in or take out, such as the Shack Stack, a huge sandwich with turkey, ham, provolone, bacon, lettuce and mayo piled onto a bread of your choice; BBQ, flounder, grouper, and chicken sandwiches, and fish or shrimp tacos. Of course, most entrees are seafood and include shrimp and fish dishes, though the steak and pasta creations are delicious too. If you are craving pizza, Sharky's is the place for the most original specialty pizzas in town; you can also create your own pizza from their ample toppings menu.
Sharky's Waterfront Restaurant and Marina in Ocean Isle Beach is located between Ocean Isle Fish Company and Sheffield's Seafood and Grocery on Causeway Drive. From Ocean Isle Beach Pier, head north on Causeway Drive (Highway 904). At the foot of the bridge there's a turn off at the gas station. Continue past Sheffield's and the gas station and that's where you'll find Sharky's. While there are many great Ocean Isle restaurants, there's only one Sharky's!