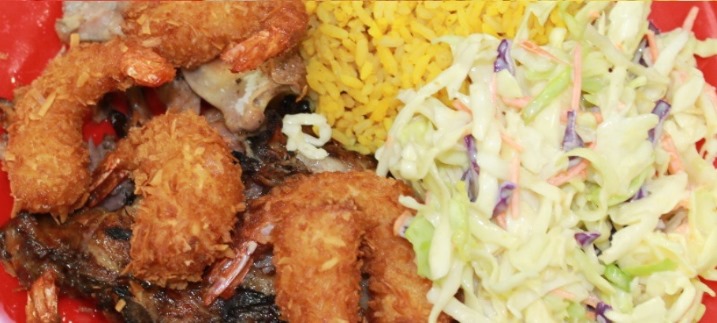 Sugar Shack Jamaican Restaurant
Are you ready for something different than the usual soup and sandwich fare? Do you love trying new flavors and different types of food? Stop by Sugar Shack Jamaican Restaurant for some authentic Jamaican dishes that will knock your socks off!
Seasoned to Perfection
If you've ever wanted to try Jamaican food cooked by someone who really knows what they're doing, you'll want to try Sugar Shack Jamaican Restaurant. Dave started cooking for his family when he was 7, and he just never stopped! His mouthwatering dishes will delight your taste buds and have you coming back for more, every time you're in Ocean Isle Beach. Jamaican Jerk is a sumptuous style of cooking that includes long marination, slow cooking, and a fiery finish on the grill. You'll choose from pork, chicken, or fish in this style, or sample other delights like curried goat, baby-back ribs, coconut fried shrimp, grilled mango tuna, and so much more!
A Great Place to Chill
Sugar Shack Ocean Isle Beach is a popular low-key restaurant spot for so many reasons, and not only for the food. Jamaican food is not fast-food, as every order is cooked to perfection, so expect to relax and enjoy yourself while you wait for your meal. Sugar Shack has a wide range of beer and wine available, so it's really a fantastic spot to enjoy a leisurely meal and drinks with friends at the end of a long day of beach adventures. You can discuss the events of the day and plan your activities for tomorrow, all while enjoying a beer and some sumptuous Jamaican cuisine.
Nice Extras at Sugar Shack Ocean Isle Beach
In case someone in your party is afraid to try new types of food, tell them they can relax too at Sugar Shack! They also offer burger platters with seasoned fries, as well as a kids' meal option. And there's more: the side dishes alone are enough of a reason to stop by Sugar Shack! Yummy sides include rice and beans, fried plantain (you can't find that everywhere!), sweet potato, coleslaw, and curried rice. They also offer some fun specialty frozen drinks, which can be ordered with or without alcohol: choose from banana, peach, pineapple, or strawberry. There are also some delicious desserts, including favorites like key lime pie and a hot fudge volcano!
Stop by Sugar Shack the next time you're in Ocean Isle Beach!
Eat:
Sugar Shack Jamaican Restaurant
1609 Hale Beach Road.
Ocean Isle Beach, North Carolina
(910)-579-3844