Calabash Fishing Fleet
If the siren song of the azure waters off the front porch of your vacation rental in Ocean Isle Beach prove too strong, make the short drive to Calabash, NC, and hop aboard one of the charter boats of Calabash Fishing Fleet. Captain Robert and his fun-loving crew offer a wide selection of deep sea fishing, Gulf Stream charters, party boats, sunset cruises, and dolphin watching excursions, perfect for a day of fun on the water for the entire family.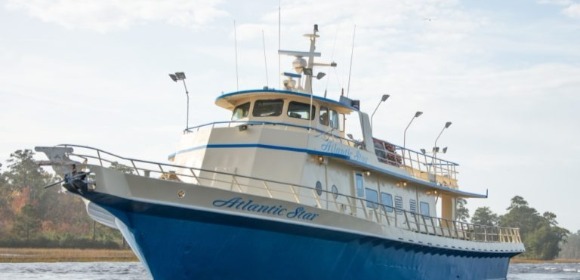 The Fleet
Calabash Fishing Fleet features 4 different vessels, each perfectly suited for your maritime adventure. Planning a large gathering or party? The 105' Atlantic Star is available for private functions, or you can hop aboard for a half-day or 12-hour fishing adventure in the heart of the Gulf Stream. You will travel in comfort with spacious decks and a climate controlled cabin with room for 130 passengers while you try your hand fishing for black sea bass, sharks, Spanish and King mackerel, grouper, mahi mahi, and much more. Alternatively, reserve a spot on the most technologically advanced boat in the area, the Navigator. Featuring the latest in fish-finding technology, communications, and safety equipment, the Navigator lives up to its name. It is available for mixed-group fishing tours as well as private events and parties.
If you want a boat all to yourself, parties of up to 6 may reserve the 45' Black Hawk, or join a mixed party of no more than 15 passengers aboard the Miss Calabash. Go sport fishing in inshore and offshore areas, troll for mackerel, or hunt the tastiest bottom-fish in the region – you can work with your captain to set your agenda! All the vessels in the fleet offer comfortable rides, expert captains, access to the best fishing areas, and include bait, tackle, and ice. Prices range from $40 per adult for a half day aboard the larger boats to $575 for 6 adults on a smaller charter. Contact Captain Robert at (866) 575-0017 or at calabashfishingfleet@hotmail.com for more details and prices.
More Than Just Fishing
Calabash Fishing Fleet offers more than just fishing excursions. Sunset cruises along the Calabash River are a popular way to enjoy the evening, party cruises are the perfect way to celebrate any occasion, and kids of all ages love the dolphin cruises, guaranteed to spot these playful mammals in the protected inshore waters or your next cruise is free!
Of course, whether you catch your own dinner or not, you can always enjoy the delicious seafood at the Calabash Waterfront Seafood Shack. This unique outdoor dining experience offers only the freshest catch from the Calabash fleet, served up in their quaint riverside dining area. Savor the flavor of freshly fileted flounder, southern deep fried or pan fried with butter, and don't miss out on the fresh shrimp and golden French fries. Offering the best seafood in town, they also serve a delicious selection of appetizers, ice creams, and milkshakes. Dig in!
From your vacation rental in Ocean Isle Beach it is just a short 11-mile drive to Calabash on Route 179. So whether you go for an entire day of fishing on the water, a sunset cruise, or just lunch by the river, make sure to give Captain Robert a call and plan your Calabash cruise adventure, today! McClure offers weekly and short term rentals if you want to stop by shortly and have some fun!